Early December is prime time for dumping (
Trust me, I know
.) The pre-holiday dump is great for many because then you don't have to buy that pesky significant other a gift
and
you're free to find the perfect skank to ring in the new year with.
I mean, what says "Merry Christmas and Happy New Year" more than making out with someone you don't know in a friend-of-a-friend-of-a-friend's hallway?
A lot of celebrities decided to take advantage of dumping season, which sucks for them but is great for me! While I love all my celebrity boyfriends, it kind of takes the fun out of it if they're actually in love with someone else. That's why I read the year-end wrap ups of celebrity break ups as my own personal Who To Stalk List. So here goes Sadie's potential boyfriends for 2011!
The Most Do-Able Divorcée, Dumped & Dumpee Celebrities
Kellan Lutz and AnnaLynne McCord
Even though he dated Drunkface for so long (which is major points in the neg), Kellan is just too studly to be tainted by that slag. And he does say he wants to date a normal girl now. I'm normal! He can date me! Only problem with that is apparently "normal" to Kellan means athletic and into football and shit. No thank you! He can teach me about tweeting things that no one really cares about and I can teach him about being lazy and we'll just skip that exercise shit.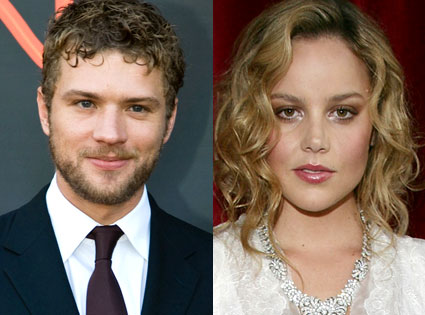 Ryan Phillipe and Abbie Cornish
So there's a good chance that Ryan is a cheating bastard. What actually happened between him and Abbie is all mixed up with contradicting stories and rumors. But at the end of the day, Ryan is too eff-ing hot and I still love him. I'm blind-sided by that sexy scruff of his. I can't help it.
Zac Efron and Vanessa Hudgens
Vanessa's brunette. I'm brunette. I can curl my hair if that's what he's into. C'mon Zac! Just let me know what I have to do to make you and those abs mine! I don't care if you're gay! I really don't! Let me be your beard!
Dexter Morgan and Debra Morgan
So honestly, this couple always
kind
of
creeped me out because I could never stop thinking of them as brother and sister. But at the same time I loved it. It's all very confusing. They were so cute in a weird, incestuous way. I am pretty stoked that Michael C. Hall is single again, though. He was in my original
boyfriend list
so this is a pretty exciting moment for me. I wonder if he ever wears that
kill shirt
in bed...
Ryan Reynolds and Scarlett Johansson
I am not a Scarlett Johansson fan. She's hot, but that's kind of it. Ryan Reynolds is hot and funny and smart and romantic. He needs someone who is more than just pretty because, frankly, after looking at ScarJo for a while she just bores me. Learn to shake it up a little, gurl! I think Ryan and I would be a much better match. I'm attractive enough and let's be honest — I'm awesome!. Plus, rumors have it that Scarlett wasn't even that nice to him. I'm the sweetest! So why don't you upgrade, Ryan? You won't regret it!
Colin Farrell and Alicija Bachleda-Curus
So Colin Farrell is definitely a fixer-upper. That facial hair and his penchant for fedoras would seriously need to go if we were to ever to be seen in public together, but he's still pretty sexy. It's that damn accent. Plus, now that he's a dad and shit hopefully he's douchebagey ways are a thing of the past.
Gabriel Aubry and Halle Berry
Halle Berry is another one of those beautiful people that I just find absolutely dull and boring. Gabriel, on the other hand, is one of those beautiful people that I don't even care whether or not his personality is dumb or boring since he is so fucking fiiiiiiine. He's like Sawyer if instead of living on a mysterious death island he lived on an island off the coast of Grenyorny
!
He's the perfect balance of rich pretty boy and rugged sex appeal and he will be mine.
Stuart Townsend and Charlize Theron
Charlize Theron is the shit. Therefore, I assume anyone she would spend nine years of her life with is equally awesome. So congratulations, Stuart. I barely know you, but I would trust Charlize's tastes with my life. Arrested Development, being BFFs with Liv Tyler, her episode of Between Two Ferns...Girl knows what's up.