So I was riding the elevator up to my room with one of my friends roommates Tanya. If you've met me then you know I'm really awkward at small talk. It's almost as bad as me at phone talk. Luckily, Tanya picked it up when she told me that I looked "just like that actress". I of course inquired as to which actress and after many floors of thinking she was finally able to come up with: "That girl he's going to marry in I Love You, Man."
That's right. Rashida Jones. Apparently, I look just like Quincy Jones' daughter. This could be my family portrait: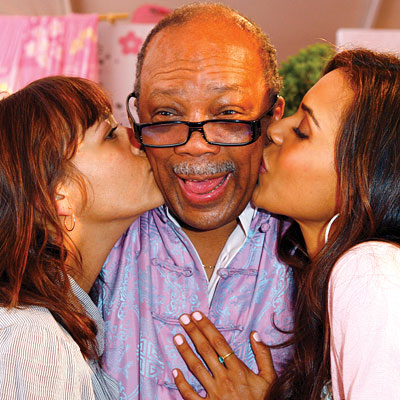 Maybe if Quincy was Jewish instead of black. That could be why Rashida is so not into that kiss. She knows that's not her real dad and she's late for meeting her bio papa at a Lower East Side bagel shop. I'm not going to lie though. The first thing I did when I got back to my room was google Rashida Jones obsessively looking for any similarities between the two of us. But why don't you judge for yourself:
Vincenzo took the words right out of my mouth when he said "Identical strangers? Holy mackarel, that's amazing!" The resemblance is eerie, right? Now it's just like I'm waiting for the other shoe to drop, for the paparazzi to start camping outside of Loeb snapping photos of me coming home from class thinking I'm Rashida. My life is soooo hard.